Amidst the more spectacular demolition of the Maths and Statistics Building at the University of Glasgow, to make way for a new Teaching Hub, members and friends of the Centre for Scottish and Celtic Studies may wish to spare a thought for the destruction of the small modular building next to it. This has gone by various names, official and unofficial: "the Portacabin" the "Arts and Humanities Research Annexe" and the "Topo-cabin", this last because it was home to so much place-name activity. It was the hub of a huge amount of CSCS research over many years, and I felt that its passing should be noted.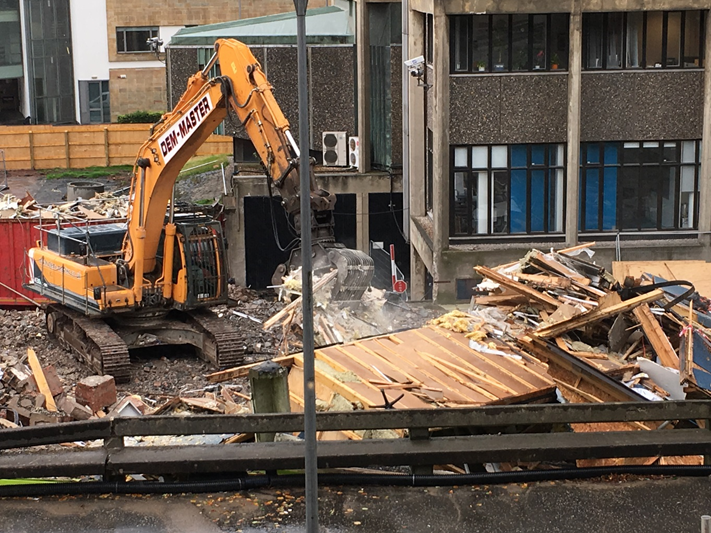 Photo: © Thomas Owen Clancy
The building was originally placed there to house the refugees from the Bower Building after its fire in 2001. After its restoration, the cabin had a variety of inhabitants until it became the home for three separate funded projects at once, all key research projects within the centre, intellectually and financially: The Paradox of Medieval Scotland (later succeeded by the Breaking of Britain project, and now online as the People of Medieval Scotland), all led by Dauvit Broun; and Scottish Toponymy in Transition and The Commemoration of Saints in Medieval Scotland, which I led.
This hive of industry produced websites, books, and more over a period of years, before the predicted repurposing of the site, and the coming to end of most of these projects, led to us vacating. Project researchers based there included Amanda Beam, John Reuben Davies, Peter McNiven, Simon Taylor, Eila Williamson, Gilbert Márkus and Rachel Butter. In addition to all this, the cabin housed postgraduate students from CSCS across a number of disciplines, including Celtic & Gaelic, Scottish History, and English Language. Catriona Gray, Guto Rhys, David Cochran-Yu, Leonie Dunlop, Alasdair Whyte, Joanna Tucker, Cynthia Thickpenny and others I have probably forgotten, all worked on their PhDs under its, sometimes leaky, roof.
A final point of note is that it was for much of its existence the home of the periodic "onomastications" or "ono-lunches" held by the Onomastic Reading Group under the auspices of the Centre. (The exciting onomastics website was also  launched here by Alice Crook and Leonie Dunlop.) While the ono-lunches have continued since leaving the building, it is safe to say that we have missed the haven of the Topo-cabin.
Alan MacQuarrie has suggested to me, in jest, that we should have a blue plaque. Maybe the Centre should think about identifying the right corner of the new Teaching Hub, once it is finished, as a lieu de mémoire?
Thomas Owen Clancy, Celtic & Gaelic
28 August 2017